Passion for Pets: building brand awareness and driving customers to their stores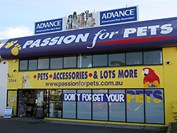 Passion for Pets: building brand awareness and driving customers to their stores
Passion for Pets is a leading chain of pet stores with three locations around Melbourne. They have a large catalogue of pets and pet accessories which they keep updated on Tradingpost. They also use display ads to further promote their brand by exposing it to anyone browsing the pet section. You may have noticed some of their distinctive ads yourself.
Husband and wife team Anessa and Chris Blackwood first started advertising with Tradingpost over 8 years ago with their previous business 'Just Pets' and have continued to use it as an effective advertising tool since taking over the Passion for Pets business.
"We regularly get customers coming in to the store who have seen our ads on Tradingpost. Sometimes they will call first to ask about a particular item, but often they will just walk in. Many people comment that they recognise our brand from Tradingpost. It is a very effective marketing tool for us and one that continues to deliver good results."
So if you are looking for a new family pet or anything to do with pets, why not contact Passion for Pets. If you search for them on Tradingpost they're pretty hard to miss.
Lessons to learn:
Keep your ads up to date (fresh content is important)
Build your brand awareness through display ads
Always ask your customers where they heard about you
Contact TradingPost

Contact us today or call on
(03) 9111 0911 to talk to us.

Email Us