Getting your business found online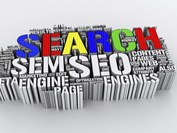 Have you invested money to build your business online but are now looking to take it to the next level? When customers are looking for their next purchase, one of the first places they look is often a search engine. Whether it's Google, Yahoo, Bing or another website these are vitally important to your business.

Over 13 million Australians search on Google every month.

When you're creating or editing your web or mobile site keep in mind the importance of keywords and where to use them. Keywords are what the search engines latch onto and they can make a big difference to your performance.

There are other simple strategies to keep your site working for you: submit articles to other sites, run promotions and do all the other things you can that increase awareness of your site. Your goal should be to appear at the top of the results page.

Through Search Engine Optimisation (SEO) and Search Engine Marketing (SEM) you can help attract more users to your website to build your business and brand. As well as getting users to your sites through SEO you can use SEM to buy ads on relevant pages to attract highly relevant customers.

If you'd like to get more users to your website, Tradingpost can help design a SEM and SEO campaign to suit you. This will help to generate more clicks to your website and improve your ranking in leading search engines like Google. To find out more contact your dedicated Tradingpost account manager today.
Contact TradingPost

Contact us today or call on
(03) 9111 0911 to talk to us.

Email Us