The last word on keywords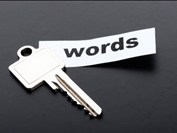 By James Ward
Senior Category Manager - Cars
We all know that competitive pricing, quality photos and a detailed description are what help draw customers to view your products for sale. However, buyers need to find your products first, so how do you make it easier for them, while making sure your ads show up in more searches, more often?

Matching the wording of your ad to the way people search is a great way to have your ads appear in more and more user searches. No matter what you're selling, including obvious terms like make, model and variant is paramount, but where you're selling something with specific features, be sure to call these out in your description. Correct spelling is critical, as is the language you use to describe your item.

For example, if you're selling a caravan with a bathroom, using the term 'ensuite bathroom' may be technically correct but users tend to search more specifically. So, including the keywords 'shower' and 'toilet' may help to attract more people to your ads.

The best way to select your keywords is to think about what your customers are looking for. Think about what they ask for when they come into your store or dealership, and use this as a guide. Remember, you need to think like a customer in order to attract them to you.

Bryan Hammond from Aussie Recreational Vehicles, located in NSW, makes sure he does this. 'We always think about what the customers who come in to see us ask for and make sure we put that in our ads. We get a great response from Tradingpost and I think it's because people find what they're looking for easily as a result of these simple tweaks to our ads.'

If you want some specific help or advice, please contact your account manager for some up-to-date pointers on how to best describe your items. And help drive people to your items for sale.
Contact TradingPost

Contact us today or call on
(03) 9111 0911 to talk to us.

Email Us