The mobile dealership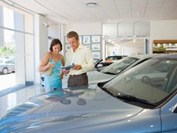 By Jarrod Scott
Category Manager - Automotive
You would have heard it time and time again, but simply put this is the year for mobile. As it increasingly becomes the digital device of choice for many savvy consumers we're seeing ever increasing rates of adoption. Whilst PC's will always be around, it's the micro-snacking behaviour of loyal mobile users that should be of most interest to businesses.

Recently we came across a US stat that really validated our existing beliefs - mobile users are 88% more likely to do business with auto dealers if the website is optimised for mobile - the most of any industry they studied (Kissmetrics.com).

It just goes to show that the demand for mobile content is not only high, but in the US it is critical to generating business for dealers. Furthermore, Google has endorsed their view indicating the rate of increase of mobile searches (up 500% year on year) and the increase in smartphone users accessing the internet.

Clearly there is demand for mobile content but why can't dealers just rely on their normal website to be accessed by mobile devices? Anyone who has tried to view a full website on an iPhone will know the answer to this - it's extremely tedious to navigate a website on a handheld device when your fingers are ten times the size of any navigation buttons.

At its most basic, a mobile site must contain three elements - vehicle stock, contact information (such as showroom hours) and location maps. As long as this information is included browsers on the go can see what stock you currently have, find out when you are open and get directions to visit your dealership. Once you have this content working well you can build around it to get the 'cool' factor.

With Tradingpost customers receiving on average 4.5x stronger results in display advertising on mobile than online, not only is their great audience but also great engagement. And with 1 in 6 of all email and phone enquiries are generated from mobile now is the time to make sure web presence is optimised for mobile.

Go mobile today and discuss your display advertising opportunities with your account manager now.
Contact TradingPost

Contact us today or call on
(03) 9111 0911 to talk to us.

Email Us