Cut through the clutter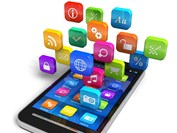 As a leader in online technology Google has put together ten great tips you can use to ensure your mobile site works at its best.

1. Keep it quick
Make sure your site is quick to load and easy to scan

2. Simplify navigation
Clear navigation and effective search functionality helps your customers find what they're looking for

3. Be thumb-friendly
Remember, many people use their thumbs to operate their phones so your site needs to be made to suit.

4. Design for visibility
Make sure your site is easy for your customers to read without the need for pinching and zooming.

5. Make it accessible
Your mobile site should ideally work across all mobile devices and handsets. Ensure you don't rely on Flash as it doesn't work on some devices.

6. Make it easy to convert
Focus on information that will aid conversion such as product details and make it easy for customers to contact you.

7. Make it local
Consumers look for local information on their phones so include functionality that helps people find you and get to you.

8. Make it seamless
Many people use multiples screens and devices throughout the day so convert as much of your desktop site to mobile to create a seamless experience between the two.

9. Use mobile site redirects
This can automatically tell what mobile phone or tablet people are using and ensure they are sent to the correct, mobile friendly version of you site.

10. Listen, learn and iterate
Good mobile sites focus on the user so it's important to get inputs from your audience. Collect user feedback and measure your usage to ensure you are giving users what they what.

If you'd like to find out more about how Tradingpost can help your business go mobile, making the most of these tips and more, speak to your account manager today.
Contact TradingPost

Contact us today or call on
(03) 9111 0911 to talk to us.

Email Us